This post is a rough writeup of some experimentation and so should be regarded as something of a 'work in progress'! My only test reference is my Gen 1 so applicability to laters models is unknown (they ought to be easier to work with though).
A couple of weeks ago my ABS warning light came on, and my immediate thoughts were that it must be something to do with me having replaced the timing belt only a few days before. But how?! Sure, I was working on the side of the engine very near to the ABS pump but even so... The warning light alone was little help - I really needed to get the code read so that I could see what was up.
Unfortunately, I was quite aware that when it comes to reading/resetting fault codes on cars it can be something of a minefield thanks to a variety of protocols - some standard, some proprietory, yet many revolving around various incarnations of OBD. To make matters worse I've got a Gen 1 from 1999 and so, by virtue of both its age and it being European, all bets are seemingly pretty much off from what I could gather.
All bets that is apart from Hyundai's 'Hi-Scan' (
H
yundai
I
ntelligent
Scan
ner) which is pretty much a dealer-only option. I didn't relish paying to get a fault code read, and indeed fully understand any dealer hesitation to do so given it is their investment in such equipment that allows them to 'add value' and charge accordingly for reading codes and repairing the cause.
Fortunately, I stumbled across Ulrich Hecht's CASCADE (
Ca
r
Sca
nner
D
evice
E
mulator) which, as the name implies, can emulate scanning software - which includes Hi-scan and Nex-Tech's (who make Hi-Scan for Hyundai) non-OEM generic Carman Scan range of scanners. You can find futher details at his
website
.
Ulrich provides a demo version of Cascade and you can get the Hi-Scan software from Webtech (
here
). The only thing remaining is a USB-to-OBD cable. There are many types available, but I went for
this one
because it is based on FTDI's
FT232
chipset (which I knew Cascade supports), has an unscrewable plug body (see below for reasons why) and above all was cheap (£6.99 all-in) so not the end of the world if I couldn't get it to work.
Now, like many (most?) manufacturers in the late 90's, Hyundai's OBD implementations were far from standardised and so proper pinouts were often not fully followed. A significant issue with my Gen 1 is that, according to the
data link connector schematic
the ECU 'k line' is connected to pin 7 as per OBD-II/EOBD/ISO9141-2 requirements but the ABS and Airbag are connected to pins 8 and 12 respectively. Hi-Scan can cope with this but a generic OBD cable driven by Cascade can't so I had to cut the hard link from the 'k line' to the plug board (which connected it to pin 7) and run a wire to pin 8 instead in order to 'speak' to my ABS: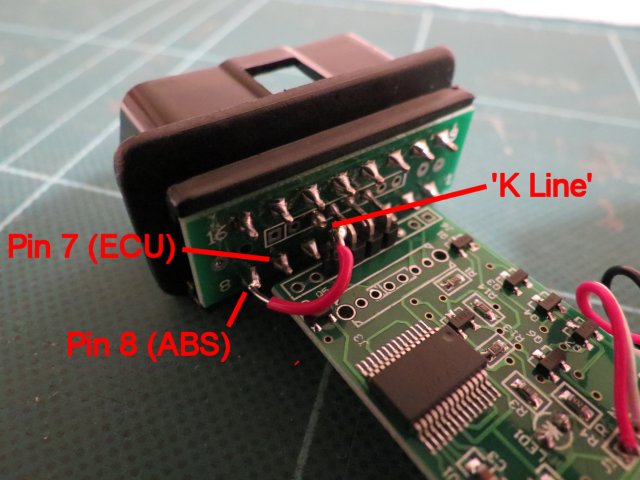 Now on to the test!
I fired up Cascade demo and pointed it to the Hi-Scan software ROM - it recognised my USB-to-OBD cable (Win 7 already had the FTDI drivers but the cable came with a CD with them presumably on):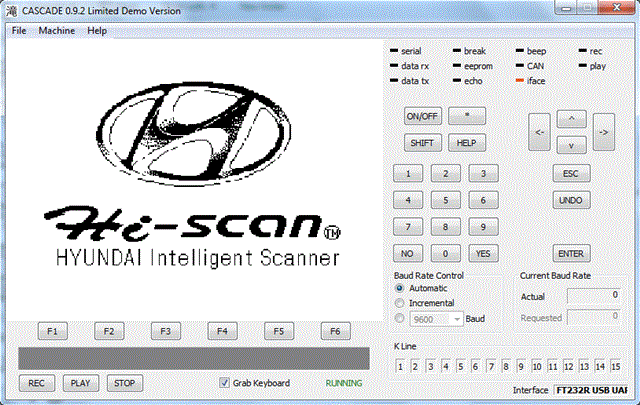 Going through the menus I could then tell it I had a Coupe (Tiburon) which brought up various options: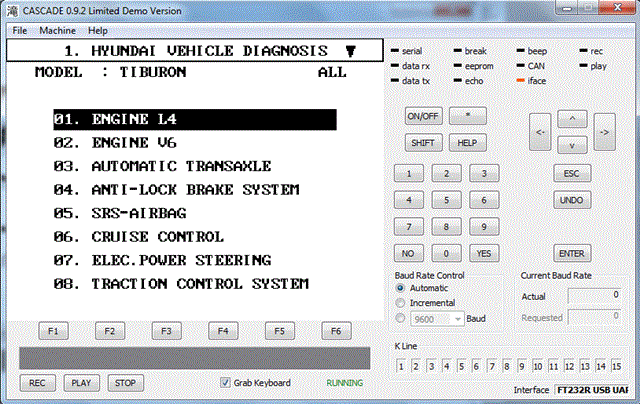 Selecting the ABS option and some trial and error with the baud rate (10400 seemed to work) I was able to eventually connect and read off my fault codes!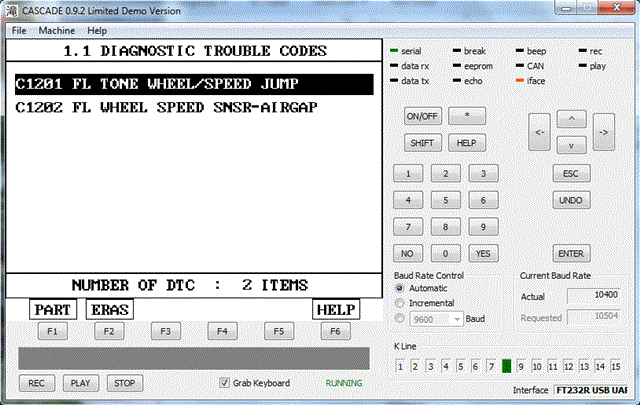 As you can see, the issue was twofold - front left tone wheel speed jump and sensor airgap. Diving under the car revealed that my front left tone wheel had cracked and was loose on the driveshaft. So with some relief it turned out not to be related to my timing belt work afterall!
At this menu I was also able to erase the codes with F2 which also reset the ABS light although the codes and light will of course keep coming back until I've fixed the problem (I've bought new rings but haven't fitted them yet).
Wandering around I found you could also get some realtime ABS-related info: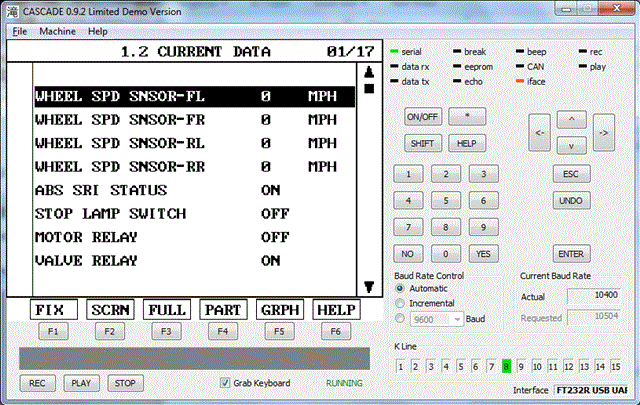 However, herein lies the issue with the demo version - not only is it time-limited (i.e. it resets after a few minutes) but it is also data-limited too and hence such realtime info would likely force a reset before too long. I was able to perform various tests though e.g. exercising the ABS pump etc.
Obviously with this success I didn't want to stop there so I went on to see if I could talk to the airbag and ECU too. For this I modified the plug further to allow me to select which pin I ran the 'k line' too i.e. 7 for ECU, 8 for ABS or 12 for airbag. To do this I snipped the previous jumper wire and soldered tails on to each pin - I could then connect the 'k line' to the respective pin as required: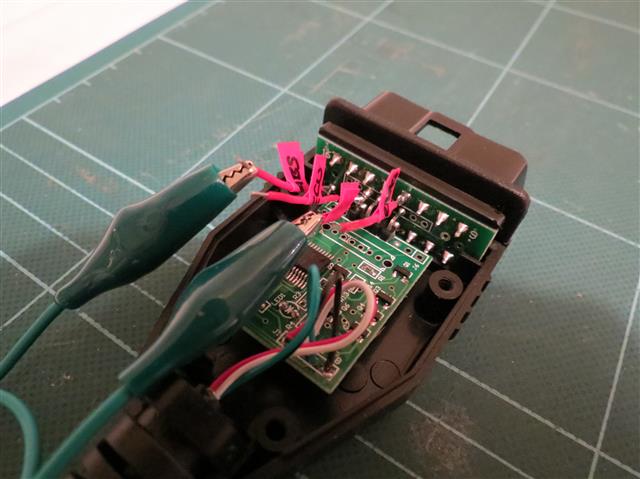 I first tried pin 12, for the airbag, and was eventually able to connect to it to read any codes. This seemed a bit more difficult than with the ABS and required a few more attempts with cycling the ignition. It eventually connected however and revealed the lack of any stored codes as expected: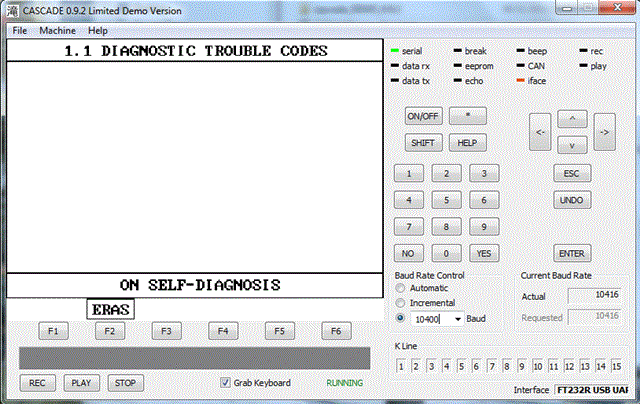 Next up was the ECU (pin 7) however I had no joy whatsoever with this. Lack of time, and requirement, meant that I didn't get to the bottom of this so I'll have to do some more experimentation in due course. I'll have to make sure the ECU is even connected to pin 7 on my car otherwise I could be digging for something that doesn't even exist!
Anyway, I hope these findings are of some interest/help to someone - if nothing else it has allowed me to read and reset a fault code for less than a tenner and should hopefully come in handy for future work. If I can get the ECU communication working, and everything running a bit more slick than currently, I'll certainly be forking out the €49 (~£41) for the full version of Cascade. I'll also look at neatening up my bodged cable, perhaps by having the pin selection through a switch rather than jumper wires. I may even try connecting pins 7,8 and 12 together as OBD employs a collision detection protocol so should be able to cope (not sure if I want to risk it though just in case I destroy something!).
Any questions/comments please don't hesitate.
Mathew